The Fundamentals of Interpersonal Relations Orientation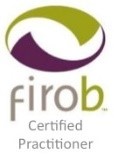 For more than 50 years, the FIRO-B assessment has assisted people in unlocking the mysteries group dynamics at work and in their personal life. The FIRO instrument is not a comprehensive personality test; rather it focuses on how you are oriented to interpersonal relations. It assesses an individual's three interpersonal needs as Involvement, Influence and Connection. The report provides a measure of how much each need is Expressed or Wanted by you.  How well these are met determine much of the effectiveness of the group. As a result of using the FIRO lens, people are empowered to adjust their behavior, enabling them to effectively influence others to achieve high performance.
DESCRIPTION: This program enables you to understand your deeply held social needs and how these affect your interpersonal relationships in the workplace. This deepens your self-awareness and allows you to see where changes in your behavior could improve your effectiveness. Through interactive exercises you will explore how you hold back, match or align with others in your team.  You will also learn about your team role, either as a clarifier, director, or encourager and how this adds value to the team. The result empowers team members to decide how to work together with greater levels of cooperation and support.
LEARNING OBJECTIVES:
Describe the three interpersonal needs and common behaviors associated with them.
Review the level of EXPRESSED [e] need - the extent to which you will initiate the behavior; as well as the level of WANTED [w] need - the extent to which you want or will accept that behavior from others.
Differentiate between an individual's needs and his or her behavior.
Define your team role and celebrate the value you add to the team
Know where you match or clash with others and work to remove conflict.
Identify changes to raise levels of cooperation and communication in the team.
Concrete preparations for the application of the instrument for feedback
PREWORK: 30 minute online assessment
LENGTH: ½ and 1 day programs
SIZE: 20 person max
Next Steps...
Are you ready to sharpen your skills or prepare your team to exceed goals and expectations? Let's work together to determine the best customized approach to incite change and performance in your organization. Call or email me today!